---
---
Pinjaze anion heating&cooling facial beauty instrument applies anion technology according to principle of like charges repel each other, unlike charges attract for attracting kation from skin to reach skin quality enhancement and tightening.
The functions and strengths of the instrument include:
Skin tightening
Skin resilience recovery
Fading and eliminating imperfections
Face detoxing and cleaning
Promoting circulation
Maintaining moisture
Fatigue relieving
Special care of around eyes
Please do not put the instrument under sunshine directly, nor around heating electronics, otherwise the instrument may be deformed and discolored.
Please strictly apply starting at temperature level 1 to avoid skin damage.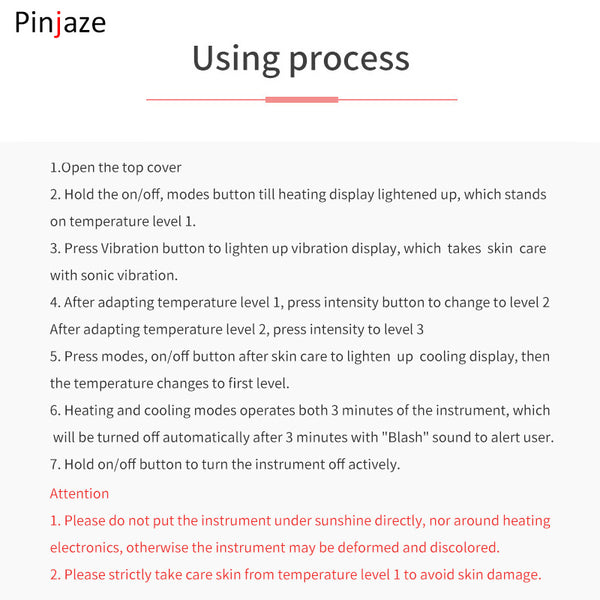 Let's find our attractive, shiny and beautiful appearance back, together!
Specification:
Name: Pinjaze anion heating & cooling facial beauty instrument
Material: ABS
Working time: 3 min/level
Vibration frequency: 8600Hz
Measurements: 18 * 5.4 * 5 (cm)
Net weight: 128 g
Gross weight: 625g

Logistics Policy
Our logistics policy in EU, UK, USA, IND and MX is free charge to delivery, which is cost effective for our customer.
After Sales: Warranty for 2 years (native after sales service available)
Why Pinjaze
Our brand Pinjaze is devoted to beauty&slimming field for more than decade, suggested and supported by professional PHD doctors of skin care and wellness. We invited the doctors once per month for learning suggestions of products choosing, providing and revising to keep the profession of our brand. For customer experience, we maintain warranty of products for 2 years and charge free to delivery in some area. We are confidence that we can be your best choice.
---