---
---
Pinjaze cold&heat therapeutic Skin Cleansing beauty machine manufactured according to cold and heat therapy principle which takes care of skin quality to clean oil, blackheads and dirts into skin, through ultra-sonic wave high frequency vibration and exchanged temperature.
Features of the product are:
Maximum 42°C for metabolism and circulation acceleration to widen pores and clean dirts.
Minimum 6°C temperature for shrinking pores to keep smooth skin quality.
Treating pimples, blackheads, acnes, skin swelling and redness, large pores.
Improving dim, oily, dry and loose skin, improving wrinkle and blackeyes.
Fatigue relief, and promoting skin absorption.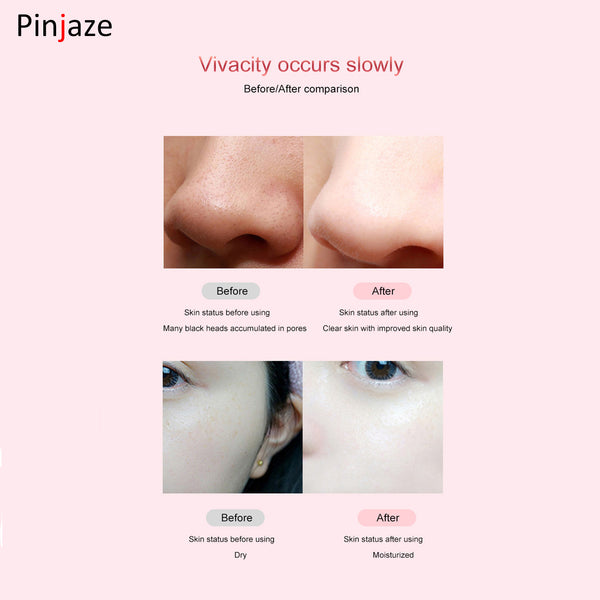 Let's find our attractive, shiny and beautiful appearance back, together!
Specification:
Name: Cold & heat therapeutic Skin Cleansing beauty machine
Charge voltage: DC 5V
Bettery capacity: 500 mAh
Vibration frequency: 8600(±10) rpm
Temperature: 6-42°C (±3°C)
Charge time: 3 hours
Measurements: 155 * 51 * 44 (mm)
Gross weight: 450 g

Logistics Policy
Our logistics policy in EU, UK, USA, IND and MX is free charge to delivery, which is cost effective for our customer.
After Sales: Warranty for 2 years (native after sales service available)
Why Pinjaze
Our brand Pinjaze is devoted to beauty&slimming field for more than decade, suggested and supported by professional PHD doctors of skin care and wellness. We invited the doctors once per month for learning suggestions of products choosing, providing and revising to keep the profession of our brand. For customer experience, we maintain warranty of products for 2 years and charge free to delivery in some area. We are confidence that we can be your best choice.
---