---
---
Pinjaze facial blackheads pores and acnes cleaner is designed for blackheads eliminating. The researchers of pinjaze found that blackheads are usually deep and stabborn under skin so we decided to manufacture a product to satisfy demands of customer who want to eliminate blackheads completely.
The advantages of product are:
Handheld, portable to use
Skin cleansing completely in deep base
Activating pores as flexible
Acnes and blackheads inhalation completely
Multiple replaceable joints for different skin types and parts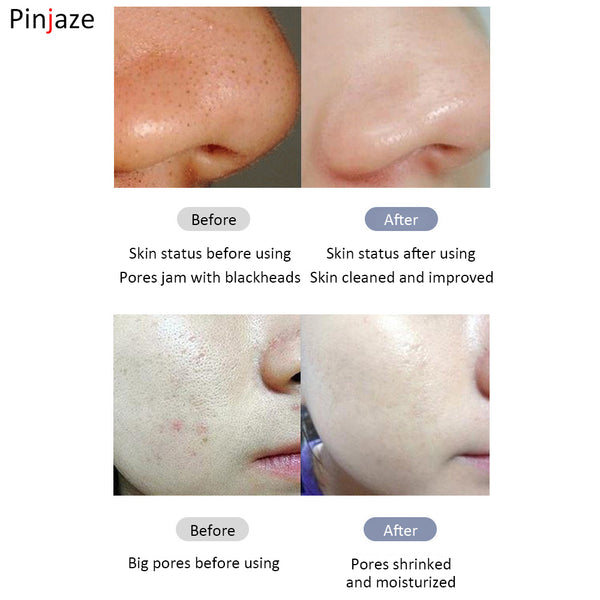 Let's find our attractive, shiny and beautiful appearance back, together!
Specification:
Name: Facial blackheads, pores and acnes cleaner
Bettery capacity: 850 mAh
Voltage: 4.5V
Electric current: 230 MA
Power: 0.8W
Charge style: USB charge
Net weight: 150 g
Measurements: 175 * 47 * 46 (mm)

Logistics Policy
Our logistics policy in EU, UK, USA, IND and MX is free charge to delivery, which is cost effective for our customer.
After Sales: Warranty for 2 years (native after sales service available)
Why Pinjaze
Our brand Pinjaze is devoted to beauty&slimming field for more than decade, suggested and supported by professional PHD doctors of skin care and wellness. We invited the doctors once per month for learning suggestions of products choosing, providing and revising to keep the profession of our brand. For customer experience, we maintain warranty of products for 2 years and charge free to delivery in some area. We are confidence that we can be your best choice.
---